dal 2 al 9 Settembre 2018 – "FINIS MUNDI – SUMMER CAMP" – Austria
Finis Mundi – Summer Camp
Workshop. Performance. Nature
2nd to 9th September 2018
Frauenseeweg, 6600 Lechaschau, Austria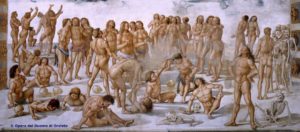 "Butoh is a corpse standing straight up in a desperate bid for life" (Tatsumi Hijikata)
INTRO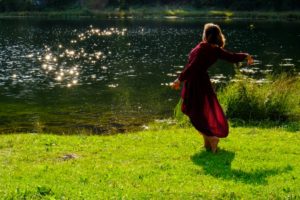 "Finis Mundi –Summer Camp" is an intensive Butoh dance workshop which includes performance events in nature at the end of the week. The proposal will take place in Austria. We will stay in a typical Tyrolese wooden house right in front of the mountain lake Frauensee, surrounded by a magnifi cent forest. "Finis Mundi – Summer Camp" is part of a larger project entitled "Apocalisse Nova" which come to life by the idea of Alessandro Pintus and the collaboration between NON Company (Italy) and asperformance (Germany). This is a unique opportunity to gather dancers from all over the countries to know our work, to share our dance purpose in order to dance together.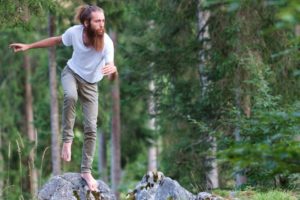 PROJECT
"Apocalisse Nova" is an artistic project inspired by the masterpiece of the renaissance Italian painter Luca Signorelli, placed in the Nova Chapel at the Orvieto Cathedral in Italy. The series of frescoes in the chapel are concerning the "Apocalypse", the "Resurrection" and the "Last Judgment", in turn inspired by Dante's Divine Comedy. The project aim is exploring the significance of the apocalyptic frescoes, through the instruments and philosophy of Butoh Dance. "Apocalisse Nova" is made of different stages and it will be developed mainly between Italy and Germany. Our goal is to collaborate with performers which are interested in our work in order to create a choreography for a group of dancers in the near future. During next year we will organize a series of intensive workshops to choose suitable dancers for the following creative and productive phases.
THEME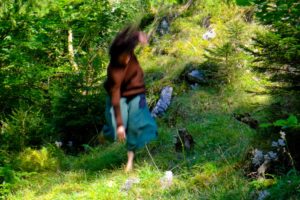 The theme of this workshop is "Dance Apocalypse – Embodied Revelation of the Origin" inspired by the meaning of the Apocalypse as Revelation in the sense of "throwing away what it covers", exposing the mysteries of matter through an organic and authentic dance. Butoh is often referred as "Dance of Darkness", that is a dance that aims to bring to brightness the hidden sides of the body, the essence of the soul of the being. Butoh is the revelation of what is dark and non-aware within us. We will explore a dance on the border between the shadow and the light, an authentic dance that fulfills the relationship between mind and body and which sets in motion the complementarities of all polarities in nature. The Apocalypse is the mystery within us. The Revelation of the hidden nature of human body. The Apocalypse announces the change, invites us to let go and turn the page to dance beyond the limit, in order to come back to the original state of life. Nature continues to dance even after the eclipse of existence. Will you dance with us through the Apocalypse?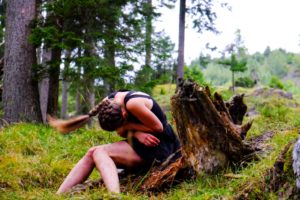 WORKSHOP & PERFORMANCE
The students, properly guided by the teacher Alessandro Pintus and helped by the assistant Alexander Wenzlik, will be encouraged to advance their research and to promote their contribution to the project. We will offer our expertise to present the meaning of the theme's topics, providing useful guidelines, in order to facilitate collective dance projects with workshop sessions (Physical Training, Preparatory Exercises, Mental Images Work), dance improvisations in nature, feedbacks and practical support to organize the final performances. The work will be developed in two phases: In-depth Research of the apocalyptic frescoes by Signorelli through Butoh Dance principles and approach. Choreographic Composition to set up and to stage the dance materials developed during the workshop phase. Dancers will have the opportunity to realize two group performances (in form of Studio) during 7th and 8th September.
REGISTRATION FEE AND PAYMENT METHOD
Registration Fee: 450 €, including accommodation and workshop fee. A common fund will be established for the cost of the food. Participation is guaranteed only via bank transfer of 250 € (First Rate), not later than 15th of July and the remaining amount of 200 € (Second Rate) before 15th August 2018.
HOW TO APPLY
Complete the Application Form (download it from Here) and send it by email (at: info@asperformance.de) before 15th July, with the following subject: "Finis Mundi Application Form". We recommend a "Pdf Document" with electronic or handwriting signature. Also include a portrait photo of yours as a separate "Jpg file". Incomplete applications cannot be considered. All kind of dancers and performers of all ages with previous experience on stage are welcome to apply. We will accept maximum 15 dancers. Wait for our answer before to send the Registration Fee.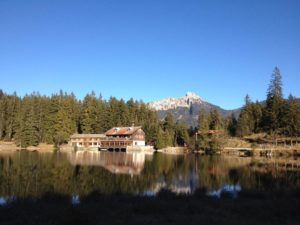 Contact/information/application
asperformance
Alexander Wenzlik
info@asperformance.de
www.asperformance.de
www.facebook.com/asperformancebutoh
0049.(0)160.96487583
NON Company
Alessandro Pintus
butononcompany@gmail.com
www.alessandropintus.com
0039.(0)338.4358187
Biography
Alessandro Pintus is a dancer, choreographer and teacher, he is member of the first generation of Italian Butoh dancers. He started to explore Butoh dance since 1996 He trained in Europe and Japan with the most representative masters. He is currently running an intense artistic and didactic activity in Italy and Europe since 2000. He founded NON COMPANY in 2001, a dance research team that takes care of investigating the hidden meanings of the Butoh dance. In 2011 he was invited to participate to the 5th International Butoh Dance Festival eX…iT! in Schloss Broellin (Berlin – Germany). He was teacher at the "Master of Social theatre and Drama therapy" for the Department of Arts at La Sapienza University in Rome. He also teached his method for R.F.A. (Roma Film Academy) at the Cinecittà Studios in Rome.
asperformance is a Butoh Dance Group founded by Seda Büyüktürkler and Alexander Wenzlik in 2011. Under this label they present own Butoh performances and co-productions with other dancers. asperformance is organizing workshops, performances and events about Butoh with german and international dancers, choreographers and teachers. Since 2012 Alexander Wenzlik und Seda Büyüktürkler are teaching together Butoh in workshops and open lessons. The collaboration between Alessandro (NON Company) and asperformance started in 2012. Since this time they organized together a row of workshops and Butoh events. The two most important projects are the intensive Butoh work in nature at Frauensee, which is running since 2013 and the first Sea.Sons festival 2013 in Munich.
Location
Freizeit – und Fortbildungshaus Frauensee, c/o Pädagogische Aktion e.V., 6600 Lechaschau, Österreich
House "Frauensee" of the "PädagogischeAktion" is located in a beautiful area close to a lake, surrounded by woods. Unique position at the height of 1000 meter, no traffic and a lot of possibilities of leisure and hiking activities. In summer it is possible to swim in the lake.
The nearby located small villages Lechaschau and Reutte are only 2 and 4 km distant.
Location of "Frauensee" to cities like "München", "Insbruck" and "Füssen"
Accommodation
All rooms are equipped with central heating and a sink (hot and cold water).
At the ground floor there is a complete equipped kitchen, a small and a big breakout room and a refectory. Besides there are two big terraces and enough toilettes and bathrooms with shower and bathtubs.
Journey there
With car and small bus via 1,5 km long mountain road. Parking places are close to the house.
Connections to Reutte
Rail connections from Munich to Reutte
The fastest connection is 2,5 hours from Munich via Garmisch-Partenkirchen: departure times at 15th of September: 6:32 am, 8:32 am and 10:32 with the regional train
Another connection from Munich is via Füssen, departure times at 15th of September: 6:53 am, 8:53 am und 11:52 am with regional train and Bus
There is also a connection via "Kempten", departure times at 15th of September: 7:20 am, 8:52 am, 9:19 am und 11:19 am with regional train ALX
Connections from Innsbruck
Connections from Innsbruck via Mittenwald and Garmisch-Partenkirchen with regional train
An event organized by 
Picture: © Opera del Duomo di Orvieto      Photos: Alexander Wenzlik, Andreas Weimann      Design: Iulia Dobrovie