5th April '21 – Zoom Meeting – WAITING FOR APOCALISSE NOVA
NON Company and asperformance
present
WAITING FOR APOCALISSE NOVA
Dancing across catastrophes: Insight into the project, presentation of our working method
Monday 5th April 2021 – Online Conference via Zoom
---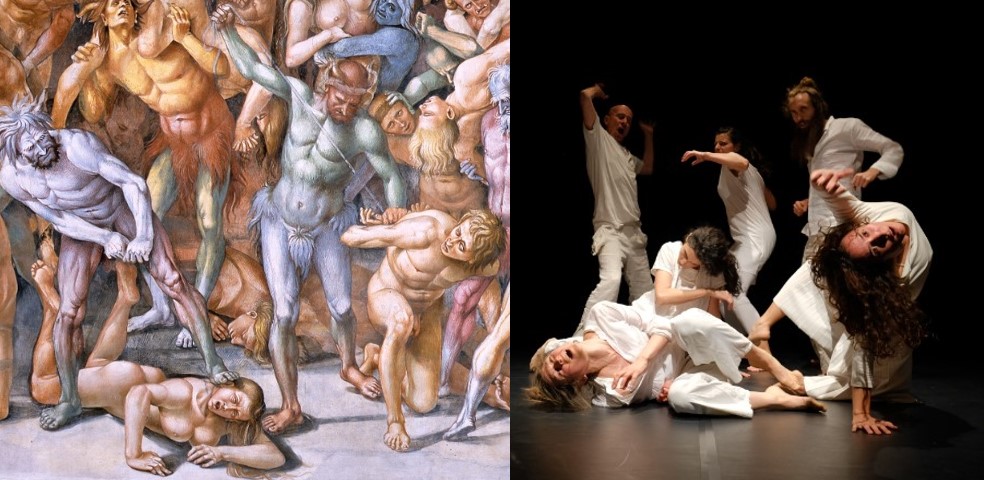 ---
"Consider well the seed that gave you birth:
you were not made to live your lives as brutes,
but to be followers of virtue and knowledge"
---
"Considerate la vostra semenza:
fatti non foste a viver come bruti,
ma per seguir virtute e canoscenza"
(Dante – Divina Commedia – Inferno XXVI)
---
Due to the cancellation of the rehearsals and performance of "Apocalisse Nova" in Tuscania, Viterbo (28th March – 4th April), we wish to invite all of you to share with us a Zoom meeting to present our choreographic project in relation with Luca Signorelli's Masterpiece and to share comments and feedback about the work. The project is inspired by Signorelli's frescoes, placed in the Cathedral of Orvieto in Italy.
---
Our dance work is forced again to a stop due to the covid regulations in Italy. But we are not descourage about it, this situation requires a lot of trust, patience, perseverance and sacrifice. More than ever, we strongly believe in the power of this dance piece and that there is a great opportunity to grow up in every difficulties.
---
The Zoom Meeting is on Monday 5th April at 18:30 (Please enter the link already at 18:15 to test the connection and for technical check up). The meeting will be held in English with translation (Italian and German) on request.
Feel free to register using the following email address: info@asperformance.de
After your registration, we will send you the link to the Zoom Meeting with basic information.
---
Organized by: NON Company, asperformance, Vera Stasi Ass. Cult.
Imagine: © Opera del Duomo di Orvieto